Personnel Crane Lift Baskets
Going Up. Coming Down. Safely.
Whether you call them Personnel Crane Lift Baskets or Safety Baskets they get your people where they need to go.
CRA personnel, crane lift baskets are built to:
Dimensions: 36″ x 36″ x 88″
Weight: 460 lbs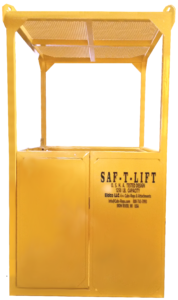 Dimensions: 48″ x 48″ x 88″
Weight: 580 lbs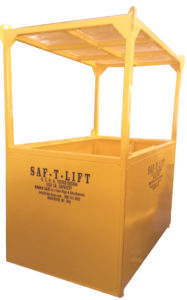 Dimensions: 72″ x 48″ x 88″
Weight: 790 lbs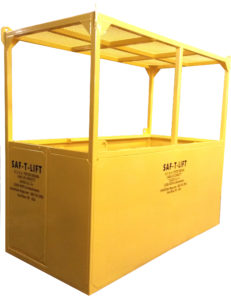 Dimensions: 96″ x 48″ x 88″
Weight: 990 lbs
Compliance with U.S OSHA Regulation 29 CFR Part 1926.1431
Compliance with CAN/CSA Regulation Z271-98
Certification ID plate attached
Safety harness anchors
Hand/belt rail for fall protection and stability
1250 lbs Capacity
Inward swing, self-latching access door with heavy duty hinges
2″ x 2″ square tubing, 14 gauge sheeting, 1/2″ – #13 expanded metal sides, 1/8″ diamond plate floor
Exterior upper lifting eyes for rigging system
Bottom lifting eyes to attach test weight and for clearance to move with fork lift
Hi-Vis Yellow Powder Coat
Or we can custom build a Basket to your needs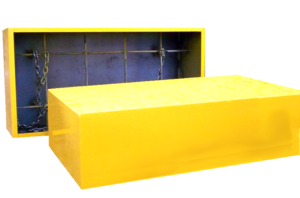 Reinforced design to accommodate complete concrete fill
Filled weight of 1,563 lbs – OSHA required 125% of basket capacity
3/8″ 80 grade alloy chain
Safety shackles to attach to basket's lower lifting eyes

4 legs on a master link attach to upper lifting eyes
4 safety shackles
5th leg choker through master link and securing to overhaul ball
Whether you're moving people up or down from ground level, there isn't a safer way to do it than with an OSHA certified Crane Baskets. Our standard models come ready to meet the demands of almost any job site and, for those they don't, we can custom build exactly what you need.
The combination of our crane baskets, rigging systems, and test weights give you everything you need to provide a safe, reliable, and legal way to move your people on your site.